Stamford Way Fisheries run local/resident open and rover matches throughout the week with weekend competitions and festivals etc throughout the season. To find out whats up coming and to participate, put your names down in our facebook group, call in or ring Leon on 07947 512262.
Winter League Fishing Competition! Starting 28th October 2023
Commencing October 28th and continuing every other Saturday for 16 weeks. To participate, individuals are required to contribute £25 per match, with £5 from each entry contributing to the final prize pool.
The competition will follow a points system: first place earns 1 point, second place 2 points, third place 3 points, fourth place 4 points, and those below fifth place will receive 5 points. Participants who do not attend will be awarded 6 points. Your best 6 results throughout the competition will be taken into account.
At the end of the 16-week competition, the participant with the lowest accumulated points will be crowned the winner! To get started, please register on our Facebook group or phone Leon on 07947 512262. An excellent chance to engage in enjoyable yet competitive fishing, offering the opportunity to win amazing cash prizes. See you on the water! 👍
DRAGON OF THE NORTH 2023 - OUR NEW ANNUAL CARP FISHING COMPETITION
Entry fees: A one-time registration fee of £20 covers participation in all 12 qualifying rounds. 100% of this fee will be contributed to the prize pool.
Fees for each qualifying round: £25 on the day (£10 for peg fees, £10 for the pools on that specific day plus an additional £5, which will be added to the overall prize pool.
Prize Pot Payout was £1,340.
1st place £500
2nd place £300
3rd place £200
Section 1 £110
Section 2 £110

Deductions: deduction of £120 designated for peg fees.
To view all the rounds winners, catch weights etc, please visit our Dragon of the North 2023 page.
Competition has now ended. Thank you to all who participated!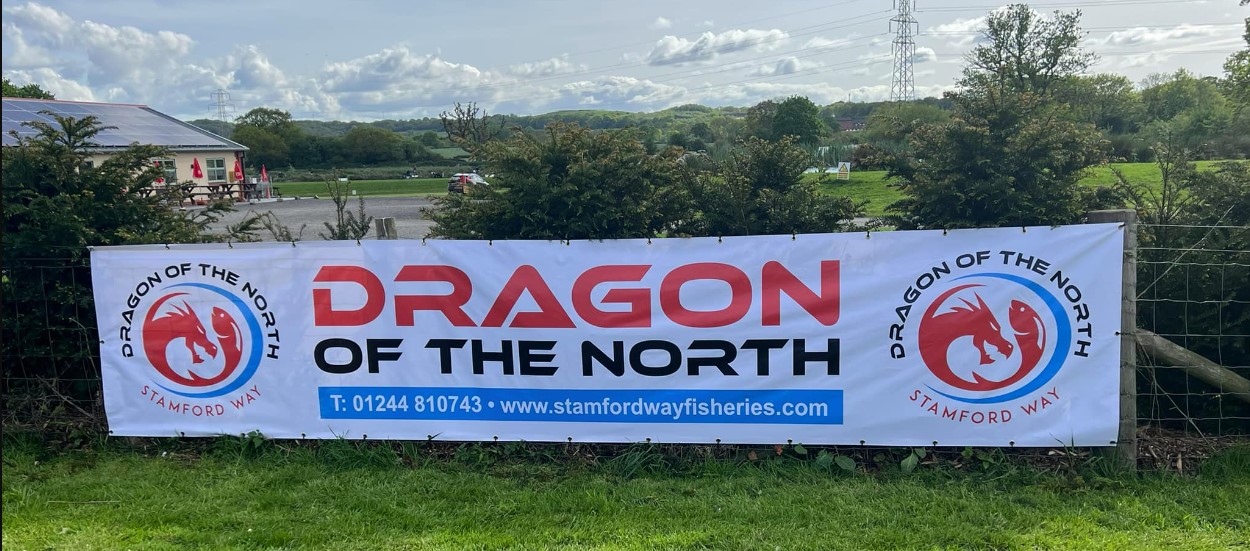 Join our facebook group for full details of all upcoming matches and competitions where you can also book/reserve your place(s).
The SFW&C facebook group is a friendly community. Whether you pleasure fish or join in matches or competitions you're welcome to join in on the general banter with fellow anglers. Our website is regularly updated with match results but posts are always published first on our group so it's a great portal for the latest news.
Please note: campers will have access to at least 1 pool at all times (unless otherwise stated)
For any queries or advice on fishing our pools, please talk to us. We're always happy to help!
Twin Oaks Fishery Rules
General
Due to limited parking at reception, could all anglers please park at pool parking and proceed to reception on foot.
Day tickets and fisheries pellets must be purchased from reception before proceeding to fish. Please buy a day ticket or settle your club booking, before proceeding to fish.
No boots or over gear to be worn in reception or cafe.
All are welcome here at Twin Oaks, but children aged under 15 years old must be accompanied by an adult at all times.
Strictly no ball games/no playing around the pool.
All landing net heads and keepnets need to be dipped prior to using.
Fishing only from the numbered pegs. No cutting or diffing bankside vegetation.
Twin Oaks Pools is a family venue. Please use the toilets provided.
Respect other anglers. No loud music, BBQ's on the bank. Alcohol is permitted in moderation.
Be fish friendly! Barbless hooks (maximum size 16), and free running feeder rigs only. No elasticated feeders.
Due to this being a new fishery and heavily stocked with a mixture of sized fish (maximum 6lb) we ask that a maximum of 5lb main line is used until further notice.
All anglers must be in possession of a landing net.
All fish must be netted.
No tapping the pole on the surface of the water.
An unhooking mat must be used for photographing the fish. No fish to be out of the water for more than 2 minutes.
Please take your litter home with you.
Bait
No boilies.
No meat of any kind is allowed.
No floating baits (i.e. feeding or fishing with baits that are floating on the surface). Pop up baits suspended mid water are allowed.
Any Feed pellets and ground bait used must be purchased from our onsite tackle shop.
No paste.
No leftover bait to be thrown into the lakes or surrounding areas, it must be disposed of off site
Matches
No more than 8 pints of live/particle bait to be taken to your peg at any time. In addition to this, anglers are allowed a maximum of 1 kilo of worms, and 2kg of ground bait.
A strict 16m pole limit is in force.
Anglers may fish halfway between the peg that they are sat on, and the nearest angler.
When pole fishing, a float must be used. A minimum of 4 inches of line must hang between the elastic connector and its lowest fixed point in the water, the float must support the weight on the line below it. Jigga floats are allowed as long as the riles are adhered to.
No feeding via a second pole/rod while a baited hook is in the water.
Please remember to bring and use your own keep nets in matches (will require dipping).
Queries/Penalties
Our sole aim is to create a pleasant, fair environment for anglers to enjoy our facilities.
Please report any violation of the above rules to the fishery team as soon as possible. We reserve the right to disqualify, evict, or ban any individual that we regard to be showing a blatant disregard for our rules.
In a match fishing context, please note that reports of any competitor breaking the rules must be made immediately, while the competition is ongoing.
With regard to our keepnet rules, any angler who weights more than 60lb 1oz in a single net will be docked back to 60lb. If the total weight in the net exceeds 70lbs, the whole weight in that net will be lost.
The management reserves the right to close the venue in adverse weather conditions.
Polite notice - Please be courteous towards fellow anglers - treat your neighbour with respect regardless of your peg. Enjoy your fishing and remember Twin Oaks Pools and Stamford Way Fisheries is all inclusive, welcoming anglers of all ages and abilities.